A little late this month!!
October is always a very busy month for us, and this year was probably the most hectic yet. With juggling 3 jobs, a blog, housework and baby between the two of us as well as all the events that happened this month we didn't have a lot of time to sit back and relax! That being said, we really enjoyed spending time with the people we love, and being social is what makes us thrive.
Zach's personality has shone through this month, and we have a very cheeky, funny and independent little boy on our hands. He loves to explore, and enjoys nothing more than crawling around and causing chaos. After 9 months of spending almost every day together we've been spending a lot of time apart now I'm back at work and I couldn't be prouder of my boy. It hasn't bothered him one bit, and I think that the time apart is doing us both good. Right now he is so content and happy it makes me swell with pride.
This month saw my group of girls reunited as we gathered together to say goodbye to our friends Clare and Sara who moved to Canada. We ate our way through mountains of cheese, meats and crackers and an entire doughnut tower whilst looking through photos and reminiscing. Although we had a lovely afternoon, and I truly hope they have the most amazing time, saying goodbye was really emotional and I miss them more than they know.
We celebrated our third anniversary this month by going on a local ghost tour and having a cheeky Dominos. It's not often that we get to go out on dates anymore, and it was lovely to do something new together. I can't believe that we've only been together for three years, as it feels like so much longer! We celebrated Jono's birthday two days later, which of course called for chocolate cake (which I ate most of) and celebrations with family.
After so much fun and indulgence during October we found ourselves staring November with a stomach bug that had all three of us feeling very sorry for ourselves. We survived the biggest poo explosion of Zach's life which happened while we were out to lunch and I was wearing a white top - possibly my least favourite parenting moment to date. November is looking a little more low key, although I'm excited to start getting festive now the focus is on Christmas!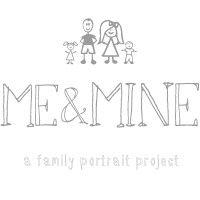 This post has been written as part of the
'Me & Mine' family portrait project.